come join in on our conversation
We welcome back our good friend Chris Holly back to the show this Sunday Sept 28th only on New Visions Radio
http://www.newvisionsradio
click link for details
***********************************************************
\
*************************************************************
I have been a huge fan of the super genius Nicola Tesla for many years. He was a man far beyond his time who could have advanced society far beyond where we are today
If he had been backed by our government as well as private investors and allowed to develop the huge amount of incredible inventions he designed the world would be far more advanced as well as a better place to live.
One of the most important inventions that Tesla developed for mankind was his free energy system which he not only invented but had nearly finished building on Long Island New York when the greedy and power criminals Thomas Edison and the banker J P Morgan not only stopped him but dismantled and destroyed the tower and machine which would have been the start of fee energy for the entire world
If Nicola Tesla had been allowed, funded and aided in his pursuit of creating a free energy power system this world would now be a far more advanced better planet. Instead for personal reasons of wanting wealth and power Thomas Edison and JP Morgan not only stopped this from happening they drove this incredible genius in to poverty and black balled him by being bullies keeping the world dark and set back hundreds of years.
People laugh when I say this yet I remain faithful to the statement if there were ever two men who I would have punched over and over in the face it would be Edison and Morgan. They should have been thrown in jail to rot for life for crimes against humanity - for what they did to this world for private wealth and power.
I cannot give an exact number to the death toll of those who have died over the last one hundred years or so due to the search for energy to keep the world moving, lights glowing and winters where homes are warm and dinners cooking on stoves all over the world. I do know most of those deaths can be directed towards those who stopped the genius Nicola Tesla from finishing his work. Our government of course is also directly responsible for this crime against mankind and still continue to this day in continuing to keep Tesla's free energy knowledge hidden and this world in terrible turmoil.
The number of people who have died in mining for coal, digging for oil, or simply dying from extreme cold without the ability to heat their homes over the last century is enormous.
Let us not forget all the wars fought over the need for oil. Add the fact terrorism is at least partly if not completely funded by way of the profits from the worlds urgent needs for energy and we have lists of millions of dead bodies covering this world all due to need for energy . Now would anyone like to join me while I punch Edison and Morgan's nasty noses across their selfish greedy faces?
That is only part of my anger which brings me to the main question that I just do not understand. That question is why are we still fighting for oil and where is Tesla's free energy system and why are we not building and using it ? How can that question contine to remains without answer to this very day.?Wars continue people die however we still remain without Nicola Tessa's free energy system. I do not believe for a moment it is still hidden or lost. I do not believe for a second that with the knowledge known about this system that our scientists today could not finish Tesla's free energy system which would free the world.
Yes I know the story that it is a big mystery to who it was that entered Nicola Tesla's small dwelling in New York City on the day he died ,alone and penniless, and supposedly removed all his papers and invention details to never be seen again. Of course I do not buy this at all and feel if we are able to explore space we should be able to find the plans for the free energy system he built on Long Island and try to continue along with Tessa's pursuits of free energy.
If we can give a private company millions if not billions of dollars to poke around in space why not do the same and give a chunk of that money to those who could continue with Tessa's free energy system. I truly feel our needs during these trying times here on earth now out way our need to explore space. The amount of life saved as well as a knife in the heart of the flow of money that funds terrorism would be huge with Tesla's free energy system in place.
I watch as we push off planet reaching for the stars but must say that I know I am right in saying the condition of this planet and the human race needs to be our first concern. I also know that until we can maintain and provide for our planet and the earthlings upon it we are not going to be welcomed in to the universal neighborhood. We need to stop being a planet or killing, destroying primitive beings before those far more advanced want anything to do with us. It is why they keep us at arm's length. They watch. They visit and even have interaction with us but past that they leave us be as we continue our savage ways.
I refuse to be pushed aside with how ridiculous I am to think his machine would work or that no one knows what he was doing or that his years of hard work are all missing. I think the need for greed and power still dominates us all and withholding free energy from the world continues for the benefit of the few instead of moving towards and forward for the benefit of the many.
It is the continuing case of a few select who want all the toys and feel you do not deserve any. This is the problem of life and the very tests our souls are handed as we live our human lives on planet earth. In this class room of life Edison and Morgan's souls I assure you will not be found with the many, the good or the kind, the energy of their souls surely are helping keep hell fully burning.
My wish is for Nicola Tesla's inventions to be developed and used for the benefit of mankind and the advancement of humanity. Nicola Tesla was without question one of this planets greatest minds. Tesla was a super genius who invented technology that we still have not mastered. The least we can do for the gifts he tried to give to us is to build and use and hopefully in the end give thanks to him for his work and his genius.
Nicola Tesla also was a man who was beaten down, abused and ignored by the greedy and powerful. Tesla was a threat to those who stood to make large sums of money from old technology they were involved with or funding. Thomas Edison was an enemy of Nicola Tesla because Tesla had advancements that would have made Edison's endeavors obsolete. Stopping Tesla from continuing with his inventions gave Edison his road to power, money and fame. The real price of Edison's greed was that we all paid the price for being without the advancements of Tesla's genius.
I hope one day we understand more about space and can travel beyond our own planet and solar system but we are not there yet as a society. We continue to allow the elite to use our money to explore space and ignore what is happening to each of us here on the surface of the earth. We should not allow another Edison or Morgan to keep us living in war and hardship so the few can explore space or take trips to space stations for vacations only designed for the rich or elite few. We need to use our money and our brain power to develop free energy and concentrate on the advancement of mankind here on earth before we reach for the stars. When we have finally become a civil working society I am sure our universal neighbors will decide to become more openly forth coming with us but until then my bet is as long as we stay as we are, they will stay as they are, at arms length - in fact I know it.
I can only hope for these things to happen and try to reach out to others who may feel the same way. Maybe if we pull together for a new way of things in this world we might actually one day get there.
Below find my original article about Nicola Tesla and a few videos concerning what I discussed in this article
http://endlessjrny.blogspot.com/2014/09/the-crimes-agaiinst-t-mankind-and.html
♥ Copyright © 2014 Chris Holly all Rights Reserved
Chris Holly's Endless Journey with the Unknown- http://endlessjrny.blogspot.com/
Email chrishollysparanormalworld@gmail.com
*****************************************************************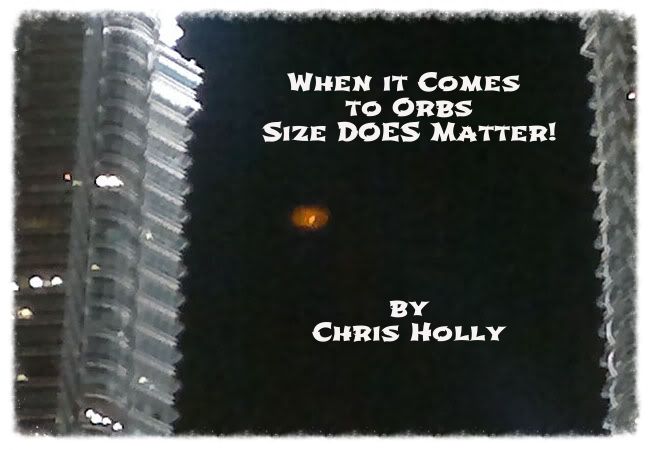 I first became aware of the existence of orbs when I was 23 years old. I was a young married woman with a small child living on Long Island New York.
My husband was a Vietnam War veteran and we were starting our new life outside of the military together with our toddler son. We were living on the top floor apartment of a two family house located in the town of Babylon New York which is located along the south shore coast of Long Island.
Life was going along as one would expect for a young couple trying to adjust from being a military family back in to civilian life. We were doing OK. We were making ends meet and had a nice place to live and a happy little boy to fill our time.
We liked the place where we were living as it had a large deck off of the kitchen which had a stair case leading to a small but nice fenced in backyard for my son to run around and play happily with his trucks and toys. We especially liked the fact it was surrounded by a wooded area on our bedroom side of the house which made it private and quiet at night. Life was going well until the Orb visited.
One August summers night around ten PM I was in my bedroom reading before getting ready for bed. My son was long asleep down the hall in his room and I was enjoying some time to myself before going to bed doing what I loved most which was reading. I remember my husband calling down the hall asking if I wanted my ritual cup of tea I usually indulged in before bed. I walked in to the hall not to wake my son and nodded yes to my husband who retreated back into the kitchen to turn on the tea kettle while locking up for the night.
I remember that I was wearing a long peasant dress which was in fashion at the time and threw the long tee shirt I slept in on to my bed but remained in my peasant dress for reasons I have long forgotten. I say this as I remained in that peasant dress for the remainder of what took place that night.
As I walked back into my bedroom I walked back around to my side of the bed which was on the side of the room with a large window that faced a group of tall pine trees. The trees were on a small plot of heavily wooded land that separated the house I lived in from the neighbor next to us.
As I passed the window something caught my eye. I stopped and walked up to the window to see what it was. As I stood against the window I found I was looking at a round glowing ball of light about the size of a dodge ball or large ball you would play with in a pool. It was just hanging in the tree looking in to my window. It was very odd as it looked to be filled with some type of gas or moving material. Today we call it plasma. Years ago there was nothing like this seen or talked about so I had no idea what I was looking at. I watched this thing hovering in the tree for a few seconds as I immediately started to fill with a deep fear that I did not know what it was and it was without question looking back at me. I called for my husband who was walking down the hall towards our room with my mug of tea in his hand. As soon as he entered the bedroom I called him to the window and pointed to the red Orb looking back at us from the trees.
My husband stood there for a few seconds looking at this thing before whispering to me almost so this thing could not hear – "What the hell is that?" He talked more to himself than to me about who would place a light in the tree like that and how was it that it was hovering in midair as we both stood staring at this thing. Suddenly the red orb started to move slowly from the tree more towards our window still hovering silently in the summer night with its swirling interior looking at us as we looked at it.
I started to feel dizzy as if I was going to faint and told my husband I had to lay on the bed. He wanted to go outside and see what the thing was with his hunting rifle but I grabbed his hand and begged him not to leave me or our son alone in the house or to go outside alone. I asked him to call the police as it must be someone doing something crazy in the neighborhood.
My husband started to stumble around the room as if the floor was moving beneath him. The last thing I remember is that he sat next to me on the bed holding his head.
We both woke up the next morning laying fully dressed on top of our bed. We never got into the bed or took off our clothes. My tea sat on the table next to my bed untouched and my husband woke with his shirt on backwards. We both felt disoriented and ill. I threw up and my husband had trouble with his balance for about an hour. We ran to our son's room who seemed perfectly fine and without any harm.
My husband went outside and searched the entire area for a sign of what it was that we encountered in the tree the night before. He could not find any sign of that orb at all. He climbed in to the trees and questioned the neighbors, no one had any idea what he was talking about.
As the days passed I started to have one flash back memory of walking as if in a trance out on to our backyard second story deck. I was walking behind my husband. I could feel my peasant dress blowing and my hair as if there was a breeze blowing on us. I could feel a glow of some kind of light surrounding us. My husband could only recall fear. He told me he felt as he did when he was deep in battle in the jungle.
I never did see that red Orb again but I do know it changed my life forever. Whatever took place that night made a drastic change in my husband's personality. We did not remain married and I do not blame all of that on the red orb I will however say without question it had a part in changing us both forever.
I have been sent many reports over the years about red or orange Orbs about the size of the one I encountered from people who discovered them hovering in their yards , fields and more often looking inside of their homes and peering in through windows. I believe this type of Orb is used for surveillance purposes. I also think if it has the opportunity it does interfere possibly with people physically. That is left to opportunity and chance.
I have been sent or told about orbs of this style and size from people living all over the world and in all kinds of living environments from large isolated farms to crowded city high rise buildings. Not that many years ago a woman wrote me a letter describing how she watched a red Orb hover outside the large window of an apartment about 30 stories in the air watching the people inside obviously without their knowledge. The Orb hovered swirling in silence peering into the high rise building for about ten minutes. The woman called the police who did not respond to her call to her knowledge and also called the doorman's desk of the apartment building that had the apartment located in it that the Orb was looking in to. By the time someone responded to her request that this oddity be looked into the Orb in her own words "Silently floated away and up into the sky ".
I have no idea what this type of Orb is. I do not who controls them or what they are used for. I can only tell you from seeing one with my own eyes that they do exist and can be dangerous.
The next type of Orb that I find to be most common and widely reported are the smaller soft ball to golf ball or even smaller white or light colored glowing balls of light.
I have found that most of the reports that I have been sent or that I have read about concerning this type of orb have more of a spiritual definition. They are often caught by photo or video by those who are engaged in ghost research or those who are having interaction with spirits of those who have passed away.
I do know that I have heard many stories of small orbs being seen by those who have lost a close loved one which makes me believe it is the energy of that loved one staying with the ones they love during times the ones they left behind may need them. I think that entering the dimension in which we live may be difficult for the energy of human life and manifesting as an orb of light a way for them to interact in our living reality.
This however is not limited to loved ones and spirits we want to interact with. It seems that many energy forms that once may have lived in human form linger among the human dimension for reasons we can only assume or try to understand. You will see evidence of this in the ghost hunter communities where there is no shortage of orbs of light being videoed or caught in photos while the hunters are actively investigating areas thought to be haunted.
It seems apparent that the energy of human life can develop the ability of showing as an orb of light or energy once they leave the human life form. I simply think of this type of orb as being part of the spiritual realm and very different from the red orb I encountered or the larger craft size orbs that are seen all over the world.
The fact remains we do not know for sure due to the lack of serious investigation what any of the Orbs are that live float and seem to watch us come from or what they want or if they are living creatures or mechanical devices.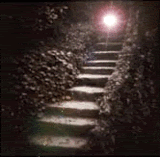 My feeling is that the Orbs are from many different sources ranging from spirit energy to multidimensional roots that are able to cross over to our realm to observe how we maneuver in our dimension. I do know the most commonly reported Orb is that of the smaller white ones. I can only logically believe they come from many sources starting with spots on lenses or reflection of light source from the point of being videoed or photographed to spiritual or dimensional visitors.
Whatever the source of this type of Orb or for that matter any type of size of Orb I caution anyone who has an encounter or sighting to follow all rules of safety as one thing remains true in all of these cases. That fact is that one really knows exactly what these objects are or why they are here. It may be a simple sign of reaching out from a loved one who has passed away however it could also be an energy from something more sinister or here for reasons that may be harmful or not for the good of those around them. Always deal with these strange objects with great care and in all cases the best advice would be to quickly leave the area when dealing with that which is unknown.
I do feel that this type of type of Orb is an energy or life form that is trying to interact with us in our form as living humans. It makes it a curiosity that easily draws us to wanting more information which may tend to allow us to make choices that could prove dangerous. Please keep this in mind if you find you are the one facing a strange ball of light or Orb and know that is could be the energy of a loved one or that of an entity you would not want to deal with and need to keep safety and caution first in dealing with them,
The last type of Orb I want to discuss is in my mind without question a craft. This type of Orb is reported in sizes from that of a small car up to the size of a football field. They are seen flying often in formation with other Orb crafts and seem to without question be under intelligent control.
I have had reports of this type of craft sent to me often over the past few years. Many of the Orb craft UFO objects that have been reported to me have been seen coming from or going out towards the Atlantic Ocean however I know they are being seen all over the world.
I know that this type of UFO Orb object is solid in color and that the colors range from white and yellow to reds and oranges. I have been told that the interior of these large craft size Orbs seem to of a gas or plasma nature making them swirl or seem gas like instead of a solid metallic type of material.
I have spoken to people who thought these large UFO style objects seem to have a living feel to them which made them believe they were either made of living material or part living and part machine in nature.
My family and I did see a group of this type of UFO Orb after hurricane Sandy and also viewed the gaseous interior of the Orb and felt that it did have an organic living feel and look to them but also were without question organized piloted machines that were flying in formation.
Like the other reports the Orbs we encountered over Long Island New York the objects flew without any sound and were unlike any other lights we have ever seen in the sky as you could look into the bright red or white swirling light of the craft without the glare that other lights of the same size would react with the human eye. You did not have to blink or adjust your eye as you were able to easily look directly into the light.
I have been told by those who have sent me reports concerning this type of UFO Orb craft that these large Orbs will stop instantly during their flight to hover over and observe the people they find who were caught watching them fly over them. I also was told that the people did feel great fear and danger when this occurred and were greatly relieved when the object or objects would regroup and continue on their way after a short time of observing the humans who were watching them pass over. In all cases those who reported these encounters all felt that the Orbs were deciding if they wanted to continue or engage in contact with the people they hovered over.
I believe that this Orb type of craft is an alien or dimensional craft that is not only here to observe but in some cases have encounters with us. I find this type of craft may be some kind of living creature and may function on its own or simply be made of a living kind of material and is piloted by a life form we are not yet aware of. I do not think they are the same as other UFO or alien or dimensional life forms. I do think they are something different. I believe we have many different types of life or energy intelligent sources that do visit and observe what goes on with planet earth and the humans and other life that covers this planet.
One day we may understand a great deal more about these things but for now I fear we will stay as we are with miles to go before we are able to grasp the workings of other life forms or the facts of the universe, dimensions and time that is around us.
I do know we need to concentrate on the world we live on and need to understand it before we can ever hope to comprehend the outer workings of cosmos. I doubt other advanced life forms who do observe us are as interested in us as we seem to think they are. I have to laugh when I read the self-importance we place on our species and the interest those far advanced have in us. They may use us for biological material or to observe as we evolve but trust me we are still killing machines who cannot live together without war or feed all who do live on this planet and seem to go out of the way to destroy our planet when we really do not need to do so. Look at how we kill and fight over energy sources and refuse to work with what we have due to politics or policies that are keeping us stuck like fools going nowhere fast. I think for now we will continue to be visited by orbs of all sizes, as well as other unknown objects. Some of us will have encounters that are close up and others may end up taken and some never returned. I do not think any of that is due to change for the human race for a very long time. We have miles to go before we can join those who visit us and move on by.
I will post images and past articles with this article on my blog concerning the subject of orbs
♥
Copyright © 2011-2014 Chris Holly all Rights Reserved
Chris Holly's Paranormal World-
http://endlessjrny.blogspot.com/
Email chrisholly61@yahoo.com
**********************************************************
****************************************************************************
This article was first published in 2010
Nicola Tesla was without question one of this planets greatest minds. Tesla was a super genius who invented technology that we still have not mastered
Nicola Tesla invented; a telephone repeater, rotating magnetic field principle, polyphase alternating-current system, induction motor, alternating-current power transmission, Tesla coil transformer, wireless communication, radio, fluorescent lights, and more than 700 other patents including a free energy system. This man was the main force in bringing mankind into the world of technology.
Nicola Tesla was a man who was stopped and ridiculed instead of backed and helped by those who only had self-agenda interests in the world around them.
The very people who had the ability to make the world a better more advanced civilization instead held back Nicola Tesla from developing the technology that would have pushed us far ahead. I cannot help wonder how many wars and deaths could have been prevented if Tesla had not been stopped.
J.P. Morgan was a very rich banker who agreed to fund Nicola Tesla's work. As long as Tesla was working on projects that Morgan could profit from. JP Morgan funded one of Tesla's large projects. Nicola Tesla built a large tower on Long Island which he represented as his part in the radio transmission race going on at the time with Marconi. What Tesla did not tell Morgan was that his building not only could be used in his radio quest but was a device to work with the atmosphere to develop Free Energy.
As soon as Morgan found out about the Free Energy aspect of Tesla's work Morgan pulled away his funding and had the tower taken down. This was a major step in the down fall of this great genius and his work which would have transformed the world.
I understand fully Morgan was a man of greed when a enormous need for power and control. I consider his stopping this project over his need to profit from energy being a paid service a crime against all mankind.
What was done to Nicola Tesla was nothing short of criminal and we are the ones who have suffered from the deeds of men like Edison and Morgan who placed self-greed and importance over the needs of the entire human race.
It is sad that Edison and Morgan were not smart enough to figure out how to both profit from the development of Free Energy while also advancing the entire world. I must say I have a very low opinion of these men and people like them.
Along with Nicola Tesla I have to wonder if the same type of things that took place to stop Tesla did not also happen to John Searl.
John Searl was a man like Nicola Tesla who was a genius. This man invented the Searl Effect Generator which is a free energy generator that has the potential to be used to run anything that runs from electricity.
John Searl like Tesla was an unusual man who developed some of his technology from dreams. He told of having dreams that would come two at a time that started when he was 4 years old. He collected the information from his dreams and built his first generator by the age 14.
Nicola Tesla interestingly enough also built many of his inventions from his dreams. He was noted as saying that he would dream of a device in its complete form along with the instructions how to build them. He would keep records of what he saw in his dreams and build them from his dream notes.
I find this similarity in both of these incredible men fascinating and a bit strange. One has to consider the possibility that both of these men were not ordinary in their thinking or methods. I find the fact that they developed their incredible inventions and leaps in technology while in a dream state extremely bizarre. In my thinking it comes straight from the paranormal that these methods were part of both of the creative processes of these men. It just does not seem logical that you can go to sleep and wake up knowing the science and blueprint with instructions to create the type of technology that both Tesla and Searl did. I think more was at hand here.
John Searl figured out how to use his invention to develop a UFO looking craft that could run on his free energy work. He could have pushed us into another level of existence if his work had been funded and aided.
Both of these men had the genius to bring us to a world without air pollution or harm to the earth. War over energy resources would have ended and travel would be cheap and clean. Energy that runs our lives would be clean and extremely cheap if not free. The fact that society sat back while the rich and greedy powers of the time kept these men from succeeding is beyond terrible it is criminal.
I understand that both men had a great deal of work to do before many of their inventions became reality. I also fully understand that if those who could have funded and backed them would have done so it would now have a very different world around us.
If other great minds had decided to work alone side of these men instead of taking the jealous greedy view there is no way of knowing what a great planet we would now have. Instead we continue to pollute, fight and stay stunted in a going nowhere fast civilization. We seem to be stuck taking twenty steps ahead with new technology followed by ten steps back due to fighting, power and greed.
I have to wonder how many other men and women are out there that still are forced out of making major changes for this world by way of greed and power.
I do know we are a violent civilization who love to fight and kill and follow what we are told like a good little herd of sheep. If this was not true and we as a group had a real need for change and advancement it would happen. The fact that we sit in ignorance silently doing as we are told proves we are indeed a society controlled and willing to be commanded by the few, the powerful and the greedy.
I think actions like those against men like Tesla and Searl that kept them from succeeding in area's that would have saved this world from horrific things are actions of people who commit crimes against humanity. We humans just sit and let it happen.
Until we break away from the controls of the few over the many we will continue down this dumb ed down road. As long as we let the TV control our lives, listen without question to whatever jackass is talking on the boob tube without questioning his words, until we place down our cell phones we are all doomed.
Until we as a society learn to listen without opinion already formed, usually by way of some TV show or radio host, we are doomed. Unless we can figure out how to form our thinking by way of searching all sides to important issues we are doomed. Until we learn to think and read without sound bites and dazzle of technology pulling us around by our noses we will stay a civilization doomed and sliding quickly to our end.
We can no longer allow the few to fill our minds without questioning their words or thinking. We cannot sit in front of a screen be it TV or computer and believe whatever media beast is feeding us. We cannot believe everything we hear in chat rooms or read by those who have lots to say but no answers for the questions we ask. We must stop being bullied by the few and become thinking, working, competent people.
I am sad when I watch and read the stories of men like Tesla and Searl. I cannot help but wonder how many more have been blocked and stopped by the hand of the few. I watch this world spin and wonder how it so many is can be so blind while the few eat us up and spit us out all for personal gain.
The longer I live the more convinced I am that the purpose of earth is to be a battle field for good and evil. It seems we have been in this war from the start of time.
The acts of mankind towards one another can best be understood if you realize that the battle of good and evil is in constant play in the human species. We seem torn between saving mankind with one hand while raging war with the other. We develop and advance with huge steps forward yet suffer at the hands like the ones written about in this article
We are beings that slaughter and destroy with one swipe of a hand yet understand the beauty found in art, music, a new born baby or a puppy. How we continue on being so contrary is something I will never figure out.
If only we could tilt the balance to the good and demand more of ourselves we would be incredible beings. For now we need to think long and hard about our actions and our places in the ongoing battle of good and evil. Do we want to treasure fellow humans like Tesla and Searl or settle for being pulled around by our noses by the evil of greed and power by the few.
Those are personal questions we all need to examine and decide upon in life . I will not suggest I have any right to suggest anyone should try to be a better human. I do feel we have miles to go and lots to improve upon before we are considered anything but savages by those who share our universe. I pray one day the way of things on earth change.
♥ Copyright © 2008-2014 Chris Holly's Paranormal World http://endlessjrny.blogspot.com/
chrishollysparanormalworld@gmail.com
*****************************************************************